We offer more makes and models in one location so you don't have to spend days shopping around to narrow down your search. We have very competitive pricing on every vehicle we sell to make your new purchase smooth and easy. Car World is dedicated to having the lowest prices and the largest selection of cars, trucks, vans, and suv's in town. If you are working with a tight budget we understand and we are here to help you get the payments that are right for you! If you think your credit is stopping you from getting your new car our financing department is happy to do what it takes to get you rolling today with good credit, bad credit or no credit we can help! Car World is locally owned and operated and is a family oriented business who understands your needs!


So if you need Good credit auto financing in Tucson, Bad Credit auto financing in Tucson or No Credit Financing in Tucson We can Help! Fill out an application for a pre approved auto loan today!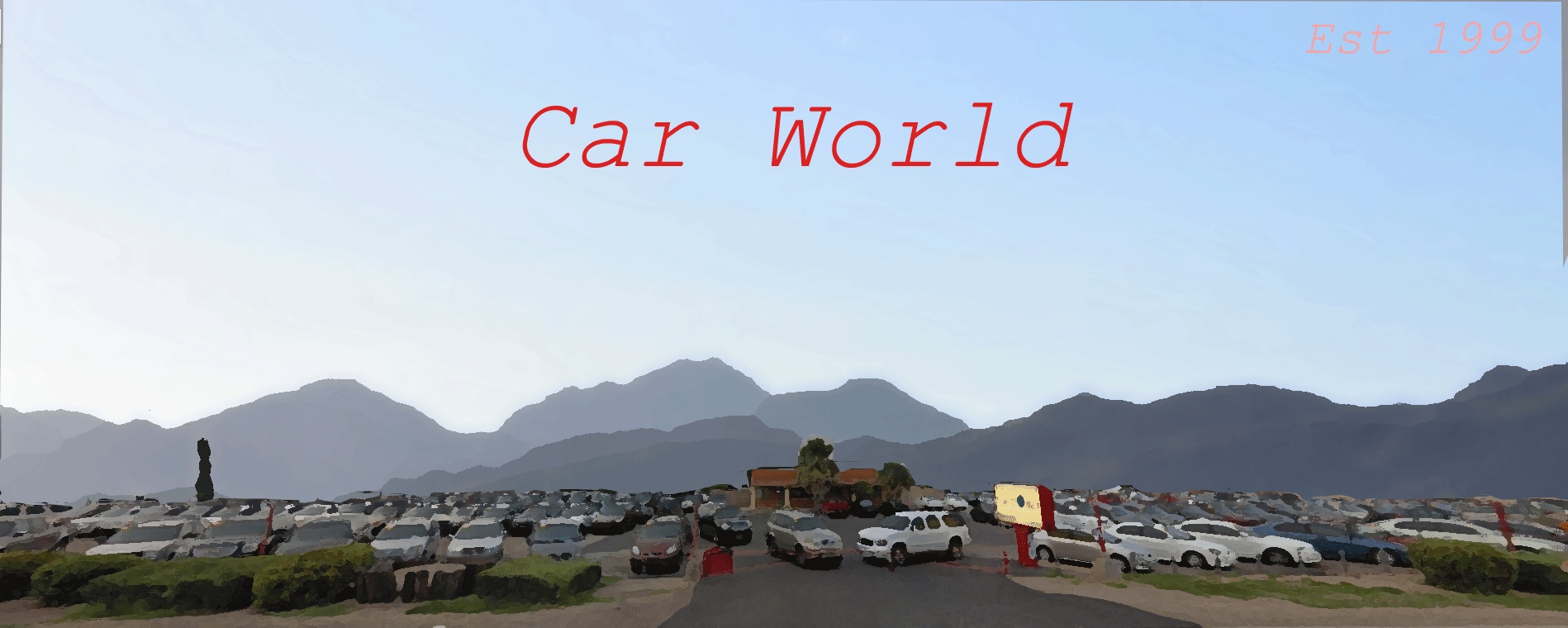 1. Over 240+ cars to choose from at one location!!! You can access our entire inventory here!
2. Financing options for any credit situation at our finance center
3. We advertise our prices because good business comes with honesty
4. Unlike other dealerships, our prices do not go up because of a customer's bad credit
5. Our vehicles are only  inspected by qualified mechanics
6. We have been in business since 1999 and have reliable, valuable, and long lasting relationships with banks, credit unions, and financial institutions. (we do offer in house financing)
7. We are members of better business bureau and Arizona independent dealer association
8. We believe in customer satisfaction
9. Our management and sales staff have many years of qualified training and experience
10. We are a family owned business that proudly sponsors local community events and organizations
11. We take trade ins
12. We have free car fax reports for all of our vehicles!!!
13. We offer low down payment and low monthly payments. If you don't live in Tucson, we can still pre qualify you for an auto loan
14. We do offer extended warranties  and GAP INSURANCE!!
15. We are conveniently located in Tucson just a few minutes off the interstate!!! Get directions here
16. We can assist you in arranging  shipment of your vehicle if you don't live in Tucson
17. We are open 7 days a week
18. Last but not least, WHY NOT BUY FROM US!!!!!!!!! Our prices are lower and our services are better
Please come in and experience the dealership that makes car buying great!!!!
Car World is committed to providing our customers quality affordable used vehicles. We have been serving our customers since 1999 and growing a strong family owned business one opportunity at a time. Our commitment is to keep our prices competitive and offer opportunities that allow local families to buy here rather than feel the need to travel to Phoenix or elsewhere for a great vehicle! We stock almost 240 vehicles with most priced under $12,000.
 We maintain a shop dedicated to work on our vehicles and assist our customers as long as they drive our cars. 
Over the years we have developed wonderful relationships with many Large Banks, Local Credit Unions, Finance Companies, and have Buy Here Pay Here options as well that work with good credit, bad credit, or no credit.   

 Here are some of the direct lenders that offer a full range of financing necessary to complete the purchase right here at our store.
Wells Fargo
Gateway
Prestige Financial
Vantage West
Hughes Federal Credit Union
Pima Federal Credit Union
A&L Finance
Tucson Federal Credit Union
Pyramid Federal Credit Union
and Many more.

Car World has sold thousands of vehicles and employs some of Tucson's finest sales people.
We are determined to patiently serve you without pressure or tactics!